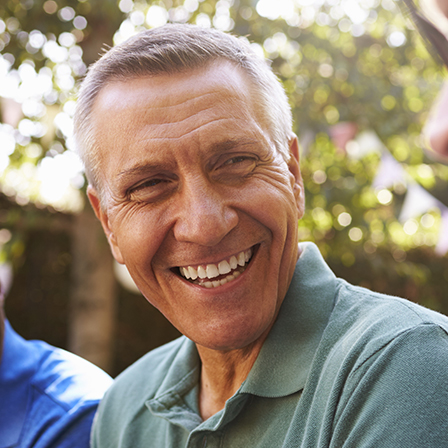 Dominic Grimaldi has struggled with his weight for as long as he can remember. But after a medical emergency earlier this year, the 66-year-old Westfield resident decided it was time to make significant changes to his diet and his lifestyle.
A successful chef who has worked at numerous restaurants throughout the Pioneer Valley, Grimaldi admits that his eating habits needed improvement. "In the restaurant business, you work long hours. I'd get to the restaurant by early afternoon, work through the dinner rush, clean up the kitchen and stock for the next day – by the time I'd get home, it was often well after midnight. Then I'd sleep for a few hours, get up, and do it all over again," he said.
The hectic schedule took a toll on his health, as did excessive drinking. Grimaldi said once he stopped drinking, he started eating – substituting one addiction for another. "That's when I really started to put on weight," he said. "In my early 30s, I weighed 225 pounds. Earlier this year, I hit 385 pounds."
Grimaldi said he was also taking diet pills and drinking a lot of coffee – a combination that eventually caused an erratic heartbeat that left him unconscious on a restaurant kitchen floor. "That was a turning point for me. I knew I had to do something, because I couldn't go on like that," he said.
Grimaldi called Mercy Weight Loss Solutions and met with Viriato Fiallo, MD, who recommended that he undergo gastric sleeve weight loss surgery to reduce the size of his stomach. (In this operation, the surgeon removes part of the patient's stomach and joins the remaining portions together to make a new banana-sized stomach or "sleeve." With this smaller stomach, patients feel fuller more quickly and eat less.) Dr. Fiallo also explained that he would be using the da Vinci® Si™ surgical system, which enables a minimally invasive approach for weight loss surgery and other complex surgical procedures.
Grimaldi had the surgery in January of this year. "I had the best hospital stay at Mercy Medical Center," he said. "The care was unbelievable! I was even able to get up and walk the same day as the surgery."
At ten months post-surgery, Grimaldi walks a mile or more every day and his weight is down to 300 pounds. He also inspires others by telling his story at Mercy's weight loss support group. He is working toward his goal of losing an additional 100 pounds in time for his 50th high school reunion. "There are still times when I struggle with the urge to eat late at night. Old habits are tough to break, but I can do it," he said.
---