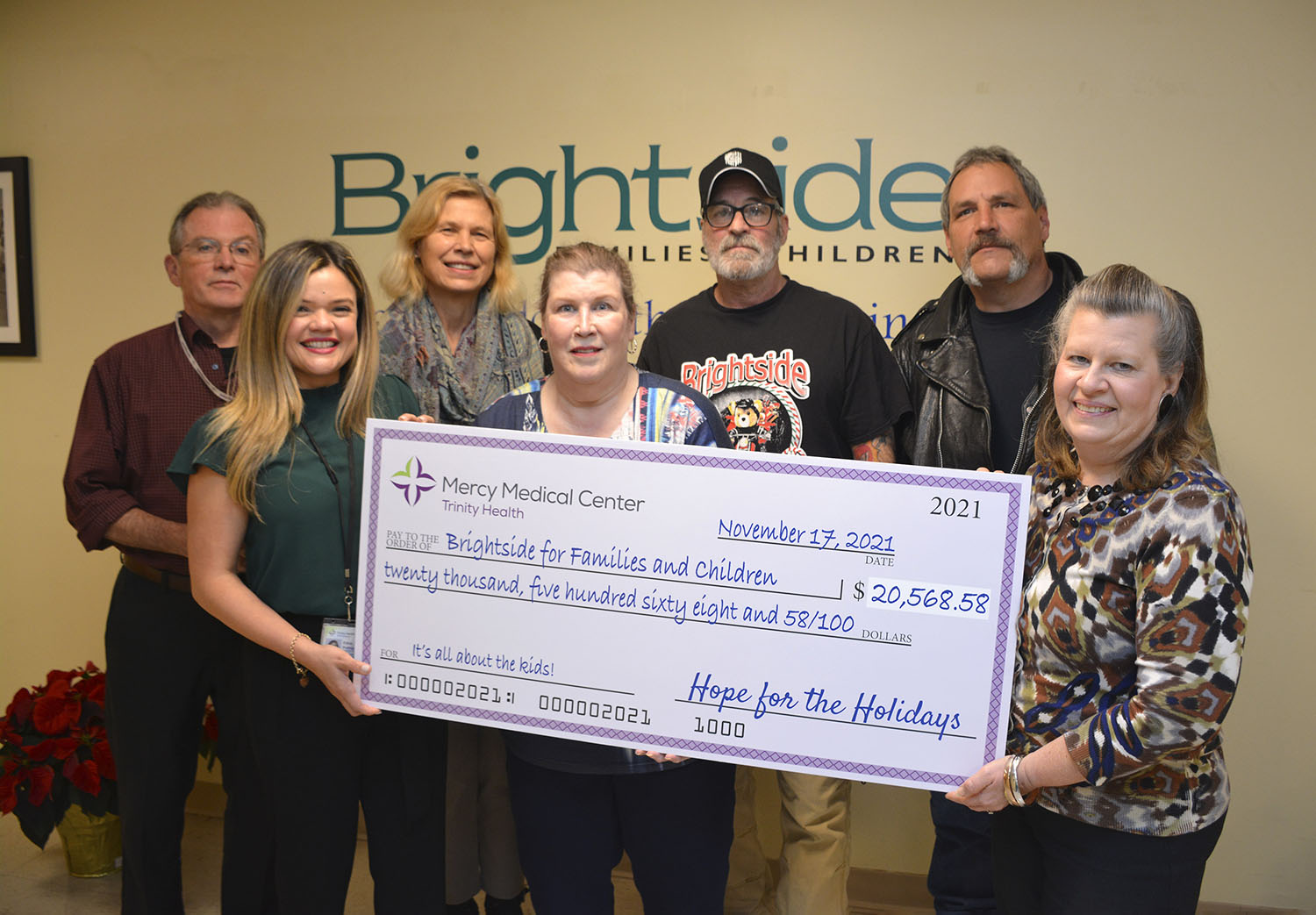 The holiday season will be a little brighter this year, thanks to the efforts of organizers of the 34th annual "Hope for the Holidays" Toy Drive/Motorcycle Run to benefit the children served by Brightside for Families and Children. The annual event, held over three days, resulted in the collection of two truckloads of toys including bicycles, Legos, stuffed animals, arts and crafts supplies, board games, and sports equipment, as well as gift cards and monetary donations totaling $20,568.58.

The Toy Drive/Motorcycle Run culminated on Sunday, November 7, when close to 1,000 motorcycle riders escorted the trucks filled with toys to Brightside in Holyoke, where they were met by staff members and Santa. "It was tremendously moving to see all the motorcycles line up and prepare for the ride to Brightside and we are so grateful for their efforts," said Deborah Bitsoli, MBA, CPA, President, Mercy Medical Center and Trinity Health Of New England Medical Group. "The day was also especially poignant because November 7 marked the 148th anniversary of the establishment of Brightside by the Sisters of Providence and we are proud to carry on their legacy of hope and healing."

Event organizers Bruce Rivest, Melvyn Hook, and Peter Silvano work tirelessly to make the "Hope for the Holidays" Toy Drive a successful annual event. Adopted as a child himself from Brightside in 1970, Rivest knows firsthand the importance Brightside plays in the local community. "We are grateful to our sponsors for not only stepping up to make the Toy Drive a success, but also for sharing our vision to bring hope and joy to every child and family supported by Brightside this holiday season," said Rivest.

Special thanks to the sponsors of this year's "Hope for the Holidays" Toy Drive/Motorcycle Run: Indian Motorcycle of Springfield; Camouflage Run in memory of Patrick Rud, American Legions, ATC Audio, Video and Lighting; Chicopee Police Department; Custom Identity Apparel; Geraldines Live Music Bar and Grill; Haymond Law; Holyoke Police Department; Husaria Riding Club of Massachusetts; Long Riders MC; No More Silence; Pro-Rider Wolfeboro; Reds Towing and Recovery; Renegade Souls MC; Sons of Mothers, MC; South Hadley Police Department; our Military Personnel, University of Massachusetts Police Department; Walmart;
Wandering Horsemen; Weasels Western MA; and Z.Z. and Company.


---