Hope For The Holidays Toy Drive and Toy Run
Walmart, 591 Memorial Drive, Chicopee, MA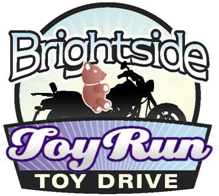 The 36th Annual Hope For The Holidays Toy Drive and Run to benefit Brightside for Families and Children will take place from Friday, November 4 through Sunday, November 6, 2021. By participating in the Toy Drive & Toy Run, you are making a difference in the lives of hundreds of at-risk children and their families who are served by Brightside each year.

Brightside provides counseling and family support right in the homes of these families throughout Western Massachusetts. Your support allows Brightside to continue its mission of protecting our community's most vulnerable children. Together we will bring them much joy this holiday season.
Toy Drive - drop off new, unwrapped toys
November 4 and 5, 2022
7 a.m. to 7 p.m. - Walmart, 591 Memorial Drive, Chicopee, MA
Toy Run - entrance fee - 1 new, unwrapped toy per rider
Sunday, November 6, 2022
Starting Location: Walmart, 591 Memorial Drive, Chicopee, MA
Destination: Mira Vista, 1233 Main Street, Holyoke, MA
11:00 - KSU
Any questions, please contact Whitney Hubbs Dionne, foundation@trinityhealthofne.org.
Register